Set in the near future where machines help both good and evil in nuclear war, a disobedient lieutenant must trust one android with his life as he sees real war for the first time.
Title: Outside the Wire
Director: Mikael Hafstrom.
Genre: Action, Sci-fi, War.
Main Cast: Anthony Mackie, Damson Idris, Emily Beecham, Michael Kelly.
Runtime: 114 mins.
IMDb rating: 5.4/10.
My rating: 6/10.
Quick summary: Lieutenant Harp is a drone pilot waging war from the comfort of a control room. After deliberately killing two American soldiers in the name of saving the rest of the platoon he is sent to a military camp on the border of a warzone where he and cyber soldier Leo set out on a peacekeeping mission. Harp soon finds out that Leo is more than meets the eye and could have ulterior motives for the war and the people it affects. Will he save the day or is he one of the bad guys?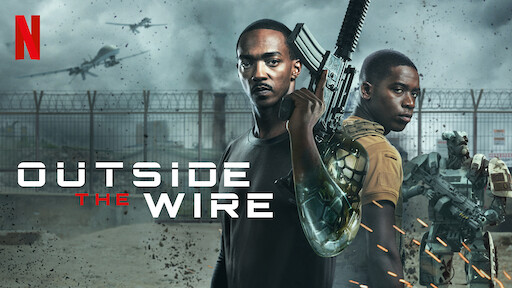 Netflix are apparently dropping one original movie a week for the year of 2021. As a movie reviewer this is pleasing news for someone looking for content to put out there. As a movie fan I am torn. The giant of streaming has yet to win me over with any of its Netflix Originals movies. They do seem to strike gold more often than not when producing television shows. Series like Sex Education, Umbrella Academy and Mindhunter all received massive praise from viewers around the world. Most recently, Bridgerton, the smash-hit period piece starring Ireland's own Nicola Coughlan (Derry Girls), has been streamed in over 60 million homes worldwide. The future (and present) of television, is streaming and Netflix are truly the rulers of the platform.
However, when we look at their original movies we see less stand-out performers. Sure, Enola Holmes, The Old Guard and Spenser Confidential were all enjoyable but their end products seemed rushed, even if they all came close to or went past a two hour run time. Netflix just can't seem to get the action genre right. The Trial of the Chicago 7 was brilliant, and The Irishman was nominated for ten Oscars but it seems that Netflix is more concerned with churning out movie after movie instead of polishing scripts and making characters actually examine their choices.
Unfortunately, Outside the Wire falls into the lower bracket of Netflix Originals. Despite visually impressive action scenes and realistic gunfights between man and machine alike, the story lacks substance and lets the main character get away with naught more than a few scratches at the end. This is especially disappointing considering the main theme of this film.
Damson Idris puts in a good performance as the disobedient, calculating and cold Lieutenant Harp who wages war from the comfort of a, well, comfortable chair in a control room as a drone pilot. He is court marshalled and sent to a war zone where he finally gets a taste for what war looks like. He meets Leo (Anthony Mackie), a cyber soldier who is bound to the human commanders of the army but is generally allowed to work on his own in peace-keeping endeavours. Leo and Harp make an odd pairing with the android much more expressive and emotive than the terrified lieutenant who is wishing he never left home.
We learn that Harp has well over 100 confirmed kills, not counting the collateral damage he has caused in small towns all over the world. This topic is pushed hard throughout the entire film. If you are killing innocent civilians in the name of good and the western world, are you really and truly good?
Despite all the philosophical soul searching and intense confrontations between Harp and Leo, Harp and Sofiya (Emily Beecham) and Harp and his commanding officers, the pay off at the end is a disappointing one. You will have to watch for yourself and see what you think of the ending. Let me know what you think!
I think that viewers could be forgiven for seeing this movie as American propaganda. Once again the American army is in a foreign country, providing aid and military help to a people opposed to them, killing countless innocent civilians and moving on with their day. When the threat of the same happening to their own people looms, the army jumps into action and makes sure that no harm will come to any American head. At least the viewer knows that the Americans will be safe, but what happens to the civilians of the occupied country still ravaged by war? Who cares?