James Corden's stereotypical performance and the criticisms he is receiving have overshadowed this enjoyable and important musical from the creator of Glee.
Title: The Prom
Director: Ryan Murphy
Genre: Comedy, LGBTQ, Musical, Romance.
Main Cast: Meryl Streep, James Corden, Nicole Kidman, Andrew Rannells, Keegan-Michael Key, Kerry Washington, Ariana DeBose, Jo Ellen Pellman.
Runtime: 132 mins.
IMDb rating: 6.2/10.
My rating: 7.5/10.
Quick summary: When a high school girl is banned from going to her senior prom because of her sexuality, a quartet of washed-up Broadway stars and wannabes try to publicize her cause and the scandal to boost their own profiles.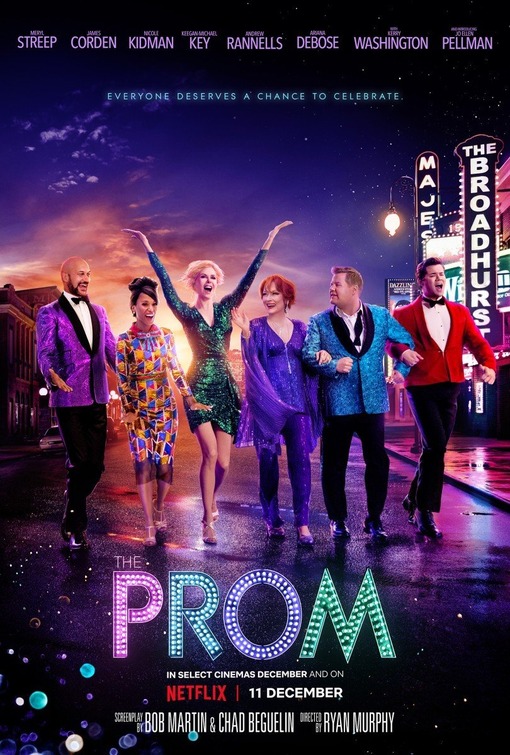 Emma Nolan (Pellman) is the only gay person in her school in Edgewater, Indiana and wants to take her closeted girlfriend to Prom. Mrs. Greene (Washington), head of the Parents and Teachers Association (P.T.A.), has other ideas and bans the school prom.
Meanwhile, on Broadway in New York city, Dee Dee Allen (Streep) and Barry Glickman (Corden), two washed up Broadway stars, suffer another bad review, cementing their status as narcissistic has-beens. With the help of unsuccessful Trent (Rannells) and Angie (Nicole Kidman), the quartet look for a cause to boost their profiles as helpful and kind super stars. They find Emma's story online and make a plan to go to Indiana and lend their name to her story.
Once there the washed up performers find that it is not so easy to be a truly good person and get lessons in putting others first.
Let's get the elephant in the room out of the way first. James Corden's performance was stereotypical and has caused offence to members of the gay community. Yes, there are gay men that act like Corden's character and it would have been fine if a gay actor played that role, but Corden is a straight man who hammed up the stereotypes associated with homosexual men for comic effect. Someone like Billy Eichner would have been perfect in the role, or if they were intent on casting a straight man in a gay role then perhaps Stanley Tucci would have handled it better. However, I don't think that Corden should take all the blame.
Director Ryan Murphy should have seen Corden's performance and realised how it would be received in the modern age. I don't know how much power Corden holds in his jobs and I have heard that he is difficult to work for, but someone along the way should have stopped him at the beginning and said, "This isn't it, James." Now, Corden is getting destroyed by critics in the media and rightly so. This is 2020 and straight actors lampooning camp gay men for laughs is not OK and hasn't been OK for a long time.
Now, I've sent the elephant off out of the room with a packed lunch for school and he seems happy enough. Let's talk about the actual movie, which was a good effort from all involved. That doesn't seem like high praise given it's 7.5/10 on the Cian Dalton movie Richter scale, but it wasn't brilliant and it wasn't terrible. It wasn't so-so and it wasn't a truly brave look at being gay in small-town America. It was a pretty good movie with some catchy songs with some of the main characters under-utilized.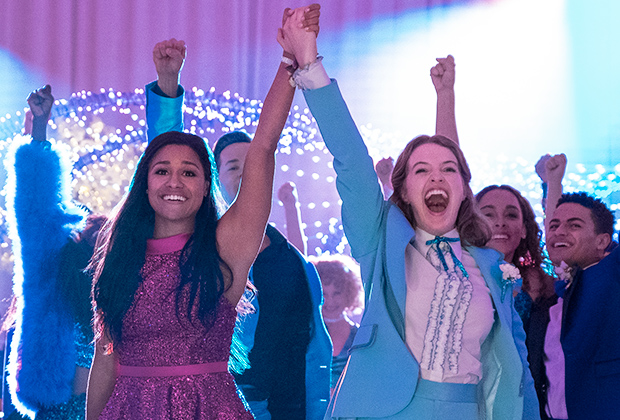 Meryl Streep was wonderful as Dee Dee Allen. She was the main focus of this movie. The audience meet her as a self-obsessed former star and we watch her peel the layers back on a troubled woman who just wants to be loved.
Streep is as funny as ever. The song, "It's Not About Me" is brilliant, really showcasing Allen's lack of care about the issue she and the gang are supposedly supporting. Her outburst towards the end when Megan turns down her offer of help and in turn loses Allen a house is hilarious, showing that one of Hollywood's greatest performers can shine in any role.
Nicole Kidman and Anrew Rannells are criminally underused in the movie. Rannells especially could have been given more screentime if his rendition of "Love Thy Neighbour" is anything to go by.
This is also a brilliant introduction for Jo Ellen Pellman and Ariana DeBose, two future stars.
This movie is just over two hours long but honestly it does not feel like a chore to watch it. The time flies by as catchy tune after catchy tune is played. The supporting cast of Keegan-Michael Key and Kerry Washington don't actually get that much screentime on their own, the four main names very much the stars of the show. According to IMDb trivia this goes against the core values of the original run of the show, where the lead roles went to actors used to being in the supporting cast. It would have been interesting to see the original Broadway cast in this filmed version but would they have brought the same audience that Streep or Corden brought to the film? Maybe James Corden wishes he never took the job in the first place.
The Prom is on Netflix worldwide!