I wonder when was the last time that I got on a see-saw? Not the last time I got on the opposite end to my brother or a small cousin and scared the bejaysus out of them but the last time I got on one for personal enjoyment. You can't really get the best experience out of see-sawing alone. Eventually it's just you going up and down, upsetting your stomach for nothing.
Watching Manchester United play is like being stuck in the air while a much bigger kid sits his fat arse on the ground and won't let you down. Every once in a while he'll let you back to earth safely only to send his humongous hoop plummeting down once again. You never know what you're going to get from him. The same is true of this particular group of players and if they win midweek they are more than likely going to capitulate at the weekends.
After two impressive wins in Europe against P.S.G. and RB Leipzig respectively, United have failed to do the job at Old Trafford against Chelsea and Arsenal. Beating P.S.G. in Paris was a result that not many fans could have predicted. Drawing 0-0 with Chelsea at home days later in a meek affair was more understandable. The Manchester United of the last four years especially are masters of getting our hopes up with a stirring performance and then losing to a side they really should beat in their next outing.
RB Leipzig came to Old Trafford with a fashionista manager and a reputation as one of the up and coming best teams in Europe. They let in five goals and left with their tail between their legs. Some fans could have been deceived into thinking that United were on the up. Oh no, not I. Seasoned veterans of supporting inconsistent and disappointing teams (I follow the Jets in NFL, Mets in MLB and I grew up in Westmeath and Cork so my G.A.A. season can often be a short one) knew that Arsenal could be a potential banana skin. Despite a solid defensive performance and withstanding the efforts of Aubameyang, Saka and Partey, a rash challenge from Paul Pogba saw the Gunners take the lead from the penalty spot. United never looked like scoring after that. Similar to the last ten minutes against Chelsea, they peppered the opposition box with crosses and shots. Apart from Gabriel's leg, Leno's head and the post keeping out a cross from Donny Van de Beek, it seemed as if Rashford and co. were resigned to losing another important match so soon after impressing in the last one.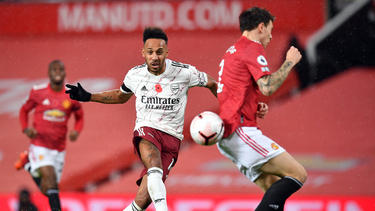 Ole Gunnar Solskjaer will manage Manchester United for the 101st time in Istanbul in his third Champions League match on Wednesday. Istanbul Basaksehir lost their opening two games of the group to United's vanquished enemies. If United can beat the Turkish side twice over the next two games then they will most likely qualify for the round of 16 and possibly top the group. I have every confidence that they will. The only problem is that I don't have any confidence that they are going to beat Everton next Saturday and West Brom two weeks later. Everton will be looking to bounce back from two defeats on the trot and West Brom want to put more points on the board. Both sets of managers and players have something to prove. So do Ole and United, but other teams want it more and can sense that on the pitch.
Will we see an improvement in consistency this season? Will Ole proceed to keep Pogba on the pitch despite disappointing performances? Will Van de Beek have to watch from the sidelines for much longer? Will Cavani get his goal soon? Plenty of questions to think about and plenty of time to think about them as Harry Maguire sits on the other end of the seesaw, looking up at me forlornly as I plead to get down, and telling me all about the ways in which the Greek civilisation failed to capitalise on their growing domination over the western world.