Title: Enola Holmes
Director: Harry Bradbeer.
Genre: Period, Action, Comedy.
Main Cast: Millie Bobby Brown, Henry Cavill, Sam Claflin, Helena Bonham Carter, Louis Partridge.
Runtime: 123 mins.
MDb rating: 6.7/10.
My rating: 7/10.
Quick summary: Enola Holmes is as smart as Sherlock and as stubborn as Mycroft, but has never seen the real world. When her mother goes missing, leaving a small trail of clues for her brilliant daughter, Enola must trust her wits and her new friend, a Viscount attempting to flee his stuffy upbringing. With her brothers on her trail, can Enola find her mother and more importantly, herself?
Now, I haven't seen the award winning show, but if you're a fan of the fourth-wall breaking Fleabag, then you'll be a fan of this movie. Harry Bradbeer directed 11 episodes of the Amazon Prime original that brought back into popularity the trope of the main character talking aside directly into the camera. Millie Bobby Brown, who plays our titular heroine, constantly switches back and forth between engaging with the world around her and then explaining details further to us, the audience. So, if that's your style then this is the movie for you. If you don't enjoy that particular type of filmmaking then this might not be your idea of a Sunday night in.
We've been inundated with Sherlock Holmes cinema over the last eleven years. Robert Downey Jr. and Jude Law played Holmes and Watson in Sherlock Holmes (2009), the Guy Ritchie directed and inevitably fast-paced take on Arthur Conan Doyle's literary legend. Sherlock followed in 2010. This time, Benedict Cumberbatch played the cerebral detective with Martin Freeman playing the beleagured but brilliant Watson. Elementary (2012) starred Johnny Lee Miller as the detective and Lucy Liu as Dr. Watson. Despite all these adaptations and another Guy Ritchie film in the pipeline, the female Holmes has never been fully developed. The Steven Moffatt series spent an episode digging up a forgotten sister only to rebury her again. This Netflix film is the first of its kind, I believe, to develop a female Holmes lead.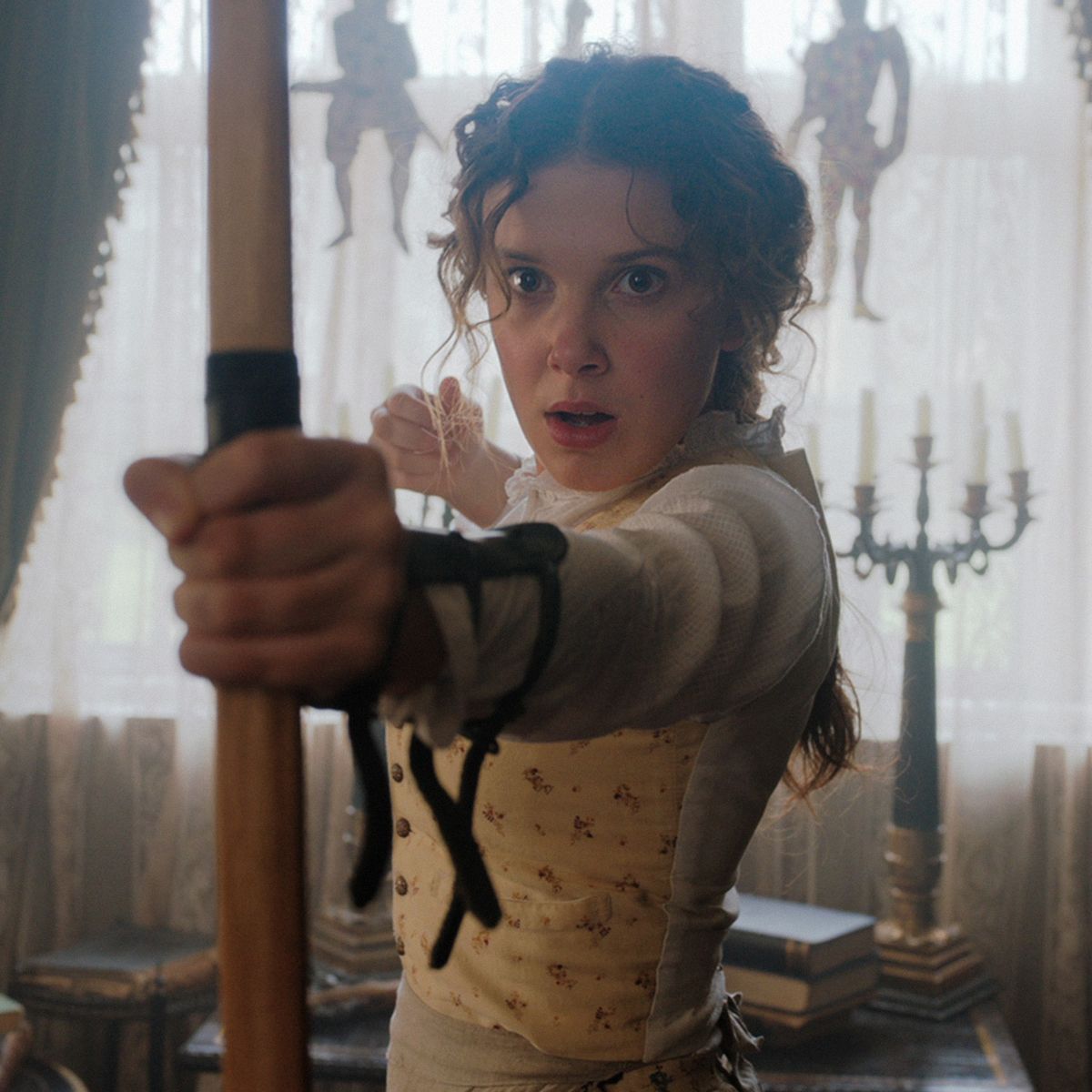 This film can be seen as the origin story of Enola Homes (Brown) in the SHEU (Sherlock Homes Extended Universe). It is a coming of age action-drama which really showcases Millie Bobby Brown's acting talents. It is hard to believe that the actress is only sixteen years old. From fighting aliens in Hawkins to solving crimes in Victorian London, Brown stands out in every performance. She will go far which is plain to see.
I am a self-described ClaFAN (Fan of Sam Claflin) and thought he was brilliant as the uptight Mycroft Holmes. He and Henry Cavill, who plays the famous detective, bounce off each other as the bickering brothers we have come to know so well over the last decade. However, this is Brown's film and is carried entirely by her. There are some strong supporting performances from the likes of Helena Bonham Carter's brief appearances and Susan Wokoma as Edith, the jiu-jitsu master that moonlights as a teashop lady.
All of the boxes of a Holmes movie are ticked here. The mystery is solved, all of our main characters escape with their lives and we have fun along the way. There is nothing to dislike about this movie. Don't expect the dark adult themes you may have seen in some of the movies I mentioned earlier. Free your mind, enjoy this new story and most of all, revel in Millie Bobby Brown's brilliant performance.