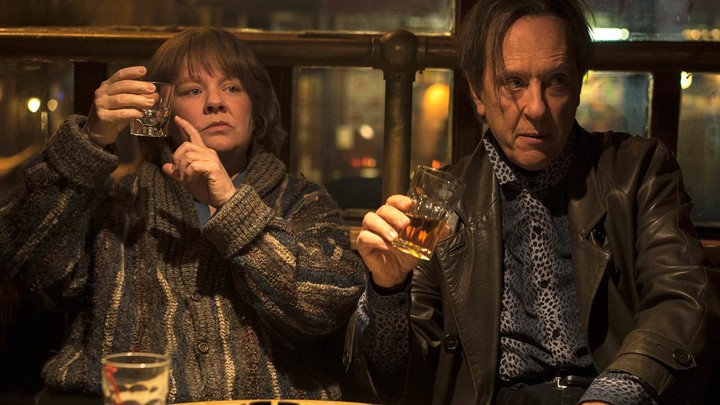 "Back once again." The reviews are back! Ger Canning has uttered this iconic phrase in countless G.A.A. matches broadcast on live television over the last number of decades. I reached out to him to ask would he record it for me so I could have it playing whenever someone opened an article of mine. Ger, ever the joker, replied via his family, agent and the Gardai, and said, "For the last time, leave me and my family alone. I rue the day I stopped and talked to you in Tesco in Mahon Point. Legal action will follow unless you stop cold calling me in the middle of the night. I don't know how you got my house number. I am a human being and you are driving me insane. May God have mercy on your soul." Ah Ger, what a chancer. If you're reading this, I'll get onto you later around 2 a.m. Keep the phone on!
Now, onto serious stuff. The movie Can You Ever Forgive Me? caught my eye due to the many nominations the cast received across multiple academies and committees. Also, it was the only thing that I knew would be quiet at my local cinema, the Reel Picture Blackpool ( hashtag ad). I knew it wasn't a comedy but with Melissa McCarthy leading and Richard E. Grant in a prominent supporting role I had a feeling there would be some comic moments.
McCarthy plays Lee Israel, a down on her luck author who has just lost her job for drunken behaviour, has a fraught relationship with her agent and is months behind on her rent. Israel does not have any redeemable qualities that we can see and is told by her agent that she, "…is not famous enough to be an asshole." She has a sick cat that she cannot afford to take care of and the biographies that she is writing to stay afloat are on the sale rack. After selling a letter of a famous author toa bookshop owner played by Dolly Wells, she quickly realises that she could make a hefty profit by forging letters of other well known figures. She has made a living writing books about other people so she knows she can impersonate them in her letters.
She meets Jack Hock, played by Grant, at a bar in Manhattan, remembering when she first met him and he went to the bathroom in a closet (hashtag Jonny Melia, hashtag ad). Hock is hilarious, flamboyant and the perfect positive tonic to Israel's cynicism and misery. After letting him in on her secret cash cow and after duping half of Manhattan's bookshops and collectible dealers into believing her ruse, she and Hock come under the suspicion of the FBI. Sabotaging her rathionship with Anna, the bookshop owner and Hock himself, Israel is finally caught and sentenced to house arrest, probation and monetary restitution.
The movie ends with Israel and Hock reuniting in the same grimy bar they met in. They bury the hatchet and he agrees to let her write a book about their escapades, ever his funny, charming self. This never happened in real life but it was a good end to a fine movie.
The movie itself is enjoyable if a bit slow. The topic of literary forgery does not sound all that interesting but the revelations that there are seedy characters in the literary world such as Israel herself, made it an easy watch. The fact that the FBI were involved in her subpoena was amazing to learn. The dynamic between McCarthy and Grant was brilliant and really saved the movie from being a bore. That said, it dragged towards the end and I did find myself looking at the clock on my phone. While I know that with a film such as this the devil is in the details but if the movie was about fifteen minutes shorter then it would've been a small bit more enjoyable.
I couldn't think of anyone that I would recommend the movie to after watching, but it wasn't a total waste of an hour and forty minutes. If I was to give it a rating out of a number that I will make up right now, I would give it a 3.5/5. Some funny moments but I'm not sure if this book warranted a movie. That said, the performances of McCarthy and Grant saved this production and both, especially McCarthy, deserve their nominations.