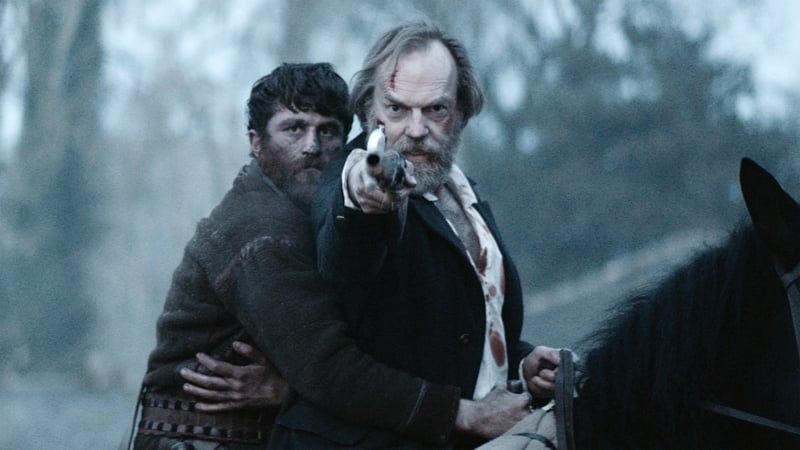 One of the most highly anticipated Irish films in recent years, this was released in the U.S last Friday. Well-known Irish stars Sarah Greene, Moe Dunford and Stephen Rea star alongside Australians Hugo Weaving and James Frecheville and the legend that is Jim Broadbent. Barry Keoghan, the rat from Love/Hate is continuing his rise as a genuine acting talent and for once, he plays a character with redeemable qualities. Some of you might know Dermot Crowley, who plays a judge who revels in dealing out harsh punishments, from the series Luther, in which he plays Idris Elba's beleagured and suspicious boss. All in all, the film boasts a strong cast and the performances don't lie.
The film opens with Hannah, played by Weaving, a drunken English officer with the Irish Constabulary. He is interrogating a young Irishman who is a suspect of conspiring against the Crown. Hannah loses the run of himself and kills the suspect.
Next, we are introduced to Feeney, played by Frecheville, an Irish soldier returning from war with the British overseas. He returns to a desolate wasteland that was once his home. He is met with the horrific news that his mother starved to death, his brother was hanged and his brother's wife and children live in fear of being evicted from the home they are squatting in. His brief reconnection with his sister-in law and niece and nephew is cut short, however, when landlords, landagents and soldiers force the family from the home, kill Feeney's young nephew and leave the mother and her children to freeze to death. Feeney himself is taken to jail where we get a glimpse of his prowess as a soldier and his willingness to take revenge on those who have hurt his family. Killing several officers and burning down the barracks, he returns to the house and finds his brother's wife frozen to death with her young son in her arms. Her daughter is nowhere to be seen, presumed dead. Feeney stares at the scene and we see a hollow look consume his face and then we are treated to an hour and a bit of gratuitous violence against the British and the corrupt Irish landlords. Happy days.
Hugo Weaving is drafted in to hunt the Irishman down alongside Freddy Fox, who plays Captain Pope, Barry Keoghan who plays a lieutenant and Stephan Rea, a translator who they pick up along the way. The quartet following Feeney and his path of destruction are taking part in an inverse game of cat and mouse, with the cat leading the mice on a deadly dance through the famine-stricken west coast of Ireland. Up until the final battle scene we are never really sure which side that Weaving's character is on, as it is revealed that he and Feeney know each other from serving in Afghanistan. We truly see the conflict that faced Irish men at the time; go and serve with the British overseas and potentially bring miney back home, or stay at home defying the crown and die by hunger or by hand. A line spoken by Feeney in a scene by night with Hannah is particularly striking when put in context with the events at the time and the black year of '47 in general.
"When I kill, it's murder. But when they kill it's war…providence."
Overall, I believe the film is fantastic. It might lose half a star for Keoghan's death scene. While he was good in the rest of the film as the young man who has joined a mission far above his station, when he tries to liberate the grain that Lord Kilmichael and his soldiers are stealing from the people it all just seems forced and wooden. A powerful scene that shows a British soldier seeing the error of his country's ways and giving up his life for people he has no connection to fell a small bit flat.
Frecheville is brilliant as the Terminator-like Feeney, stalking those who did his family wrong with his cúpla fóclóir and his steely gaze. Weaving is equally as impressive as the disillusioned and decorated former British Army veteran who faces a choice of escape or redemption in the final scene. Broadbent is sublime and horrible to watch as the oily, anti-Irish Kilmichael. Stephen Rea provides some sort of comic relief and the true voice of the oppressed Irish, sharing a powerful scene with Broadbent in which he stands up for the Irish peasants while making the Lord think he is partaking in friendly banter.
The film ends on a hopeful note with Feeney's niece, who was presumed dead, seen on a cart bound for a boat to America. A bittersweet end to a film chronicling the worst year of the biggest genocide that the Irish nation ever suffered.
This film is playing in the Independent Film Centre on 6th ave. if anybody living in New York want to see it over the next few weeks. It's also on Showbox, for smart people like my friend Aaron. Shnake.